Room temperature cure nano-coatings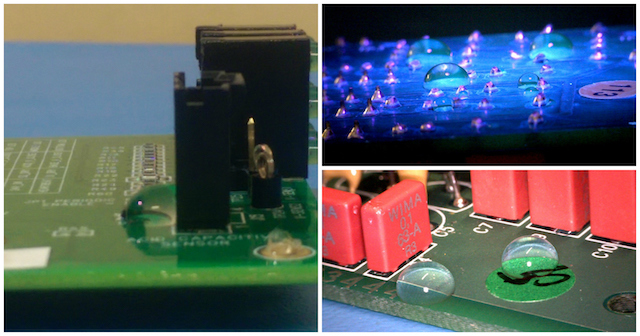 Nano-coatings have very specialised properties for protecting circuit board assemblies.
SCH provide two proprietary low temperature (LT) fluoropolymer coating formulations, LT-4 and LT-8.
The two nano-coatings have similar protection properties but differ in liquid carrier.
---
Performance properties of LT-4 and LT-8
The fluorocarbon coatings have excellent physical properties:
Hydrophobic and oleophobic surface performance
Superior moisture and salt barrier properties
Corrosion resistant
High resistance to chemicals/solvents
Resists heat to 200C
Survives Gamma, E-beam and EtOH sterilization
Good adhesion
Will not occlude fine gauge mesh openings
Well suited for: pcb, electronics, metals, MEMS, sensors, plastics, steel mesh, membranes, fabrics
Adaptable and customisable chemistry
Re-workable, solderable
Optically clear liquid formulation
Film thickness from 200 nanometers to 2+ microns
Varying fluorocarbon solids from 0.1% upwards
Transparent, colorless film
Low viscosity, low surface tension solution
Want to know more about fluoropolymer nano-coatings?
---
Downloads
---
LT-4 and LT-8 difference
The difference between the two coatings (LT-4 and LT-8) is the solvent carrier.
The LT-coating 4 is based upon standard solvents (acetone, butyl acetate) and MEK and provides a commercially price sensitive solution.
The LT-8 coating uses a fluorosolvent carrier that is a safe alternative to the environment and the operator.
Talk to us about your requirements for fluoropolymer coatings.
---
Why use nano-coatings to protect circuit boards?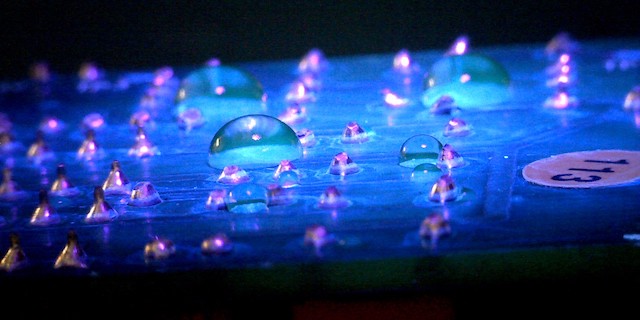 Nano-coatings have very specialised properties for protecting circuit board assemblies.
They include:
Being highly hydrophobic (water repellent)
Having a high moisture barrier
Being ultra-thin so no requirement to mask the circuit board
Being highly oleophobic (oil repellent)
Having a high chemical resistance
Having a high lubricity
Having high dielectric properties
Providing high corrosion resistance
The fluoropolymers are extremely flexible coatings and becoming more prolifically used throughout engineering.
Contact us to find out more about nano-coatings for circuit board protection.
---
FAQs
---
Downloads
---
Nano-coating links
---
Links
---
Interested in our range of nano conformal coatings?
Contact us now to discuss what we can offer you.
Give us a call at (+91) 40 65 897 899 or email your inquiries at salesindia@schservices.com.