Ecosolve 200 cleaning fluid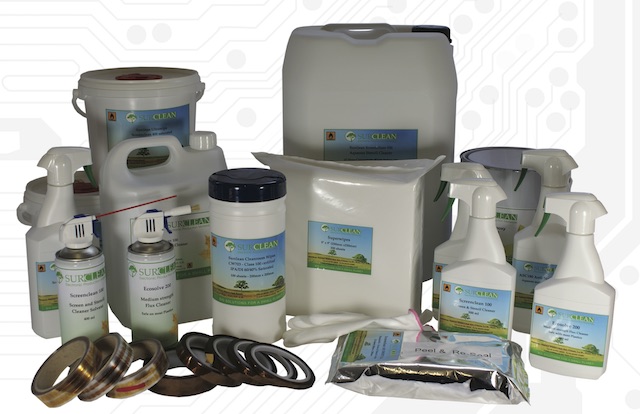 The Ecosolve 200 cleaning material from Surclean is a strong solvent blend for flux cleaning applications.
The 200 series is highly effective where high levels of residues are present including removal of flux and uncured adhesives.
---
Main facts
Removes all flux types. Removes flux, uncured adhesives and white powder residues.
Perfect for hand cleaning. Used for removal of heavy deposits of flux deposits as the slow drying allows agitation of residues by brushing.
Flexible. It is sometimes used in bench top ultrasonic cleaners.
No residues. Dries clean.
Safe. Low level flammable.
It is slower drying and much more powerful than IPA.
Compatible with almost all plastics, rubbers and elastomers.
The longer evaporation time allows sufficient time for brush agitation to mobilise and dissolve residues while there is still sufficient liquid cleaning solvent on the work piece.
Highly effective when removing heavy residues. For example rework flux and SMD adhesive.
It is economical when used.
Combined with the lower vapour pressure, releases substantially lower levels of VOC's into the environment than Isopropanol Alcohol (IPA).
Available in aerosol, trigger spray and bulk quantities.
---
Standard pack availability
400ml aerosol spray
500ml trigger spray
1 litre trigger spray
5 litre container
25 litre container
---
Datasheets
---
Cleaning links 
---
Links
---
Interested in our range of cleaning fluids?
Contact us now to discuss what we can offer you.
Give us a call at (+91) 40 65 897 899 or email your inquiries at salesindia@schservices.com.